Reviews
The playing is suitably tasteful and very well recorded and presented.
Sound on Sound 2017-01-01
Elastik Player
Product video
Elastik is an extremely flexible loop and sample player for the creation of professional music productions. Elastik comes for Mac and PC, both 32 and 64 bit (VST, Audio Units, AAX, RTAS and as StandAlone).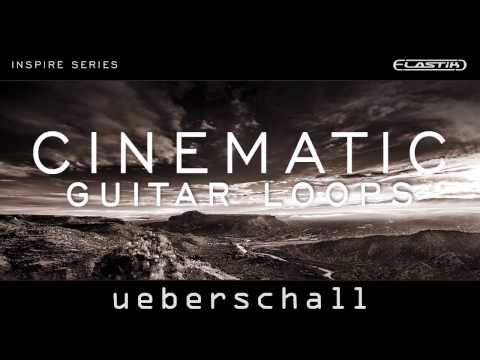 Play video
Cinematic Guitar Loops
As part of the Inspire series, Cinematic Guitar Loops provides a huge collection of atmospheric guitar performances that would make ideal source materials for music producers and media composers looking to create ambient soundscapes.


Dry And Processed Loops For Maximum Flexibility

The library spans some 6.4GB of sample data and contains nearly 1200 individual loops organized into 100 construction kits. Within each of these kits, three individual guitar parts are provided. There is also an associated bass part to deliver all the low end required. For each part, both dry and processed versions are included as well as two pre-mixed layers, giving 12 loops in total for each kit. The pre-mixed layers provide two alternate mixes and an 'outro' section for easy cue construction. All loops have a length of 8 to 16 bars and up to 32 seconds. Each of the kits is organized in exactly the same fashion making it very easy to navigate.
In addition, the kits themselves are organized into four categories – Themes, Ambient, FX and Distorted – so you can quickly find material suitable for the mood you wish to create. Stylistically, the kits span from the more melodic Themes category to the more abstract and darker Distorted category but, as you get all the dry recordings – and given the ease with which Elastik allows you to adjust the tempo and pitch of any loop – you can mix and match loops between any of the kits, adding your own processing options, for an almost endless number of musical possibilities. Elastik also makes it easy to pitch or tempo match the samples to any other musical elements – drums, synths, vocals, etc. – that you may have in your project.


Almost Endless Combinations Available

The content for Cinematic Guitar Loops has been crafted using a range of different electric guitars including 6,7 and 8 string models, 6 and 12 string acoustic guitars, resonator guitars and 4 and 5 string basses. Effects and processing options used include e-bows, amp-based feedback, analog and digital delays, a whole range of stompbox-style effects, a violin bow, bottlenecks, down-tuning and various modified pickups. For the processed loops, the creative processing delivers some unique and truly atmospheric sounds and textures.


Atmospheric Guitar-Based Loops

Whether you are looking for a soothing or melodic ambience or a darker, more disturbing, soundbed, this library will inspire your creativity. Cinematic Guitar Loops is an ideal choice for media composers.


Elastik Features

The Elastik Player from Ueberschall is the ideal tool for loop-based music production. The advanced algorithms by zplane development can match all samples in Cinematic Guitar Loops to any track in pitch and tempo with just a few mouse clicks. All installed Elastik libraries share a common, clearly arranged browser, granting immediate access to all installed loops. Functions such as resample, formant and reverse as well as an effective sequence mode allow creative sound design on the fly.


Credits

All Guitars played by Kai Reuter

Genre: Cinematic
Elastik Soundbank for Mac & Win - AU/VST/AAX/RTAS/Standalone
6.4 GB, 100 Construction Kits, 1192 Cinematic Loops & Samples